Invisible Warrior: Sickle Cell Disease societal engagement project
The Invisible Warrior project is designed to increase the understanding of sickle cell disease. Next to increasing awareness around what is the disease and who can get it, our project also focuses on the effects this disease has on the mental health of patients and their support networks. Our team visits local schools and, in parallel, organises workshops for patients and their friends and family.

The Invisible Warrior societal engagement project is supported by Imperial's Rapid Response Seed Fund.
What is sickle cell disease?
Sickle cell disease is a genetic disease that affects the red blood cells in the body. Red blood cells are normally round. In a patient with sickle cell disease, some of the red blood cells become deformed and have a sickle shape (see animation below).

Sickle cell disease limits the red blood cell's ability to transport blood around the body and can cause episodes of severe pain in sufferers – called a crisis. Sickle cell disease is particularly common in sub-Saharan countries in Africa and in the UK mostly found in people with an African or Caribbean family background.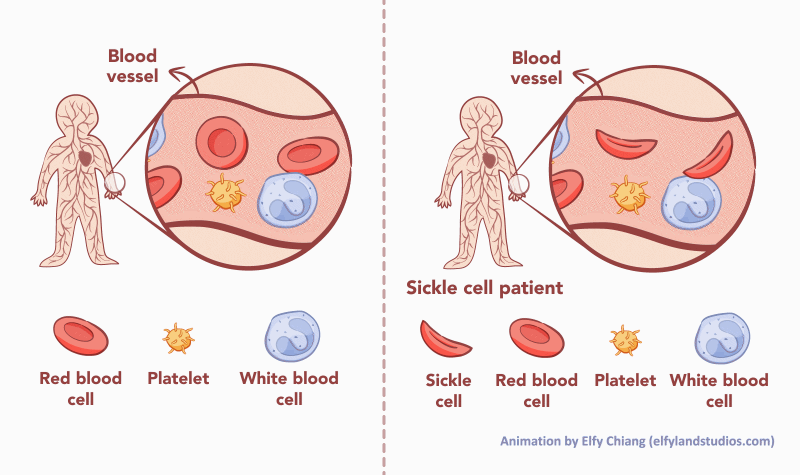 The Project
Digital school visits
We digitally visit primary and secondary schools to deliver interactive workshops. In one part of the session, we focus on sickle cell disease: the students learn what sickle cell disease is, what causes it and who can get it. Then sickle cell warrior Louisa shares her life story living with sickle cell disease, after which the students can ask her questions. During this, the students will work on an exercise reflecting on mental health and invisible disabilities. In this exercise, students draw a person from the inside and the outside (this can be a sickle cell patient, or it can be themselves when they felt happy or low).

During the other part of the class, Josefin Ahnström talks about her life as a blood scientist at Imperial. Josefin explains the different components of blood, their function and how they can be studied in the lab. She shares images and videos working in the lab, talks about the cultural diversity of her colleagues and combining being a scientist with being a mother. Then students can ask Josefin questions about her life as a scientist, blood and her research.